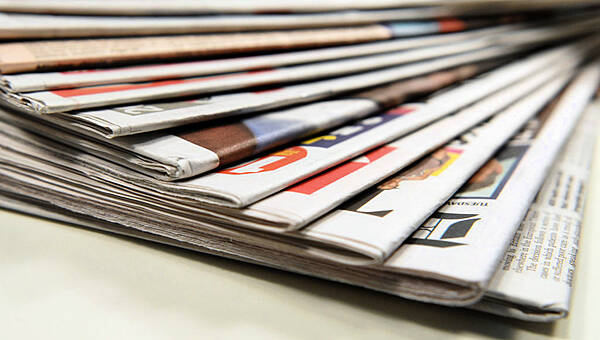 A report that has found 140 "lost" child mental health follow-up appointments, and the murder of a patient in a Cork hospital are among the stories on Monday's front pages.
The Irish Times leads with the Child and Adolescent Mental Health Service (Camhs) report.
The Irish Examiner leads with a story on the murder of 89-year-old Matthew Healy in Mercy University Hospital (MUH).
The Camhs report also makes the Irish Independent front page.
The hospital murder is the lead story in The Echo, Irish Daily Star, Irish Sun and The Herald.
Monday's edition includes super soccer pullout pic.twitter.com/Qt6cnTnUgf
— Irish Daily Star (@IsFearrAnStar) January 23, 2023
This morning's Irish Sun front page. pic.twitter.com/6SUfWRs5JA
— The Irish Sun (@IrishSunOnline) January 23, 2023
A shortage of home carers is contributing to the hospital beds crisis, the Irish Daily Mail reports.
For all the big news and sport, pick up a copy of Monday's Irish Daily Mail, or click on https://t.co/wKUyK4AHpD pic.twitter.com/8lqjZX3WTi
— The Irish Daily Mail (@irishdailymail) January 22, 2023
In the North, the Belfast Telegraph leads with a story on short-term releases for convicted murderers in Northern Ireland.
The Irish News leads with a story on Archbishop Eamon Martin suggesting the church could help with the Troubles truth recovery process.
Good morning. Today's #FrontPage
Archbishop suggests clerical role in Troubles truth process
GAA-founded A5 group: We saw tragedy all around us
Read: https://t.co/JyzDL4zdLS
Subscribe: https://t.co/y5tlLNJSPb
Home Delivery: https://t.co/I1gVh0iuJt pic.twitter.com/Bg4sEv4oCM
— The Irish News (@irish_news) January 23, 2023
Troubles for the former UK chancellor, Boris Johnson in Kyiv and benefit dependency are splashed across the British front pages.
Tory MPs have warned Nadhim Zahawi's position as Conservative Party chair is "untenable" due to questions over his tax affairs, reports The Independent.
Metro says Labour has asked for an investigation into the appointment of the BBC's chairman amid claims he helped Mr Johnson secure a loan – weeks before the then-prime minister recommended him for the role.
Tomorrow's Paper Today 📰
BORIS BANK CHUM
🔴 Tories hit by sleaze storm
🔴 Call for probe into claims Beeb boss got ex-pm loan #TomorrowsPapersToday pic.twitter.com/RPL9L96nCJ
— Metro (@MetroUK) January 22, 2023
Mr Johnson has been lauded as "a true friend" of Ukraine during a surprise visit to the country, according to the Daily Express.
Front page: Boris back on the front line #TomorrowsPaperToday
Ex-PM urges West to 'double down' on support to Ukraine https://t.co/OXHWgid87T pic.twitter.com/28KgoqQA0G
— Daily Express (@Daily_Express) January 22, 2023
The Daily Telegraph says National Grid will today pay customers to switch off to conserve electricity as temperatures plummet.
🗞️The front page of tomorrow's Daily Telegraph:
'National Grid ready to pay customers to switch off' #TomorrowsPapersToday
Sign up for the Front Page newsletterhttps://t.co/x8AV4Oomry pic.twitter.com/JwezFBcLti
— The Telegraph (@Telegraph) January 22, 2023
The i reports the UK business secretary has ordered energy firms to stop forcibly installing prepayment meters, but the companies say the "fundamental problem" is that millions cannot afford to pay.
I: Energy firms hit back at prepay meter ban with threat of higher bills #TomorrowsPapersToday pic.twitter.com/rLkqXJdsSv
— Neil Henderson (@hendopolis) January 22, 2023
An investigation by The Times has found more than 40 British universities have collaborated with institutions linked to the Uighur genocide, nuclear weapons development and hacking of China.
Analysis in the Daily Mail shows Britain's benefits dependency has reached an all-time high, with more than half of households getting more from the UK government than they pay in tax.
Internal forecasts show the UK will be 15 years late in achieving its £1 trillion annual export target after being hit by Brexit, reports The Guardian.
The Guardian front page, Monday 23 January 2023. Britain forecast to reach £1tn export target 15 years late in wake of Brexit pic.twitter.com/yR2nydkU0V
— The Guardian (@guardian) January 22, 2023
The Daily Star asks if food firms are "taking the peas" after Tesco's boss John Allan accused the companies of hiking prices during the cost-of-living crisis.
And The Sun reports Britain's Got Talent judges Amanda Holden and Alesha Dixon are refusing to sign new contracts in a pay row over Bruno Tonioli joining the show.
On tomorrow's front page: Britain's Got Talent in bitter pay row as Amanda Holden and Alesha Dixon won't sign contractshttps://t.co/n7X5iNDk3O pic.twitter.com/PN9mOh8RjC
— The Sun (@TheSun) January 22, 2023