TAIPEI, Taiwan – International support could be key to deterring a Chinese invasion of Taiwan, according to Taipei-based defense experts who say U.S. forces aren't likely to fight on the island or in the strait separating it from mainland China.
A Chinese effort to reunify Taiwan by force is a possibility that many U.S. defense leaders take seriously, based on regular threats by Chinese President Xi Jinping and stepped-up Chinese military activity around the island in response to an August visit by former U.S. House Speaker Nancy Pelosi.
President Joe Biden in September said U.S. troops would defend Taiwan if China invaded and made a similar statement while visiting Japan in May. Walk-backs by his staff, however, suggest a deliberate policy of strategic ambiguity meant to deter conflict by leaving the possibility of U.S. intervention uncertain.
Taiwan President Tsai Ing-wen has said she is confident the United States will come to the island's defense if China attempts to invade. In an Oct. 26 interview with CNN, she confirmed the presence of small numbers of U.S. Marines and special operators on the island.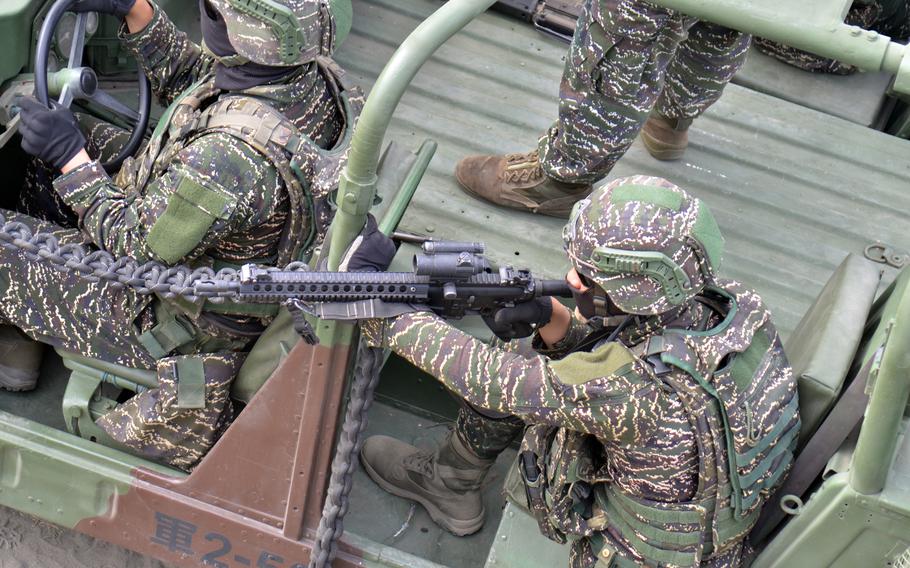 Defense experts in Taipei, however, think it's unlikely that significant numbers of U.S. troops will deploy to Taiwan in a crisis.
Professor I-Chung Lai, a former Taiwanese artilleryman who works at the Prospect Foundation, also doesn't think U.S. warships would enter the Taiwan Strait to oppose an invasion, because the waterway is so close to Chinese forces on the mainland.
The time it would take to send aid means European nations probably won't play a military role in any Taiwan Strait crisis, Lai said.
"We do not think Europeans are going to play a significant military role in the Taiwan Strait," he told Stars and Stripes Jan. 10, noting the vast distance from Europe to the Far East.
However, the internationalization of Taiwan's security is still important, Lai said.
"What the U.S. is doing is to encourage other friendly nations to have a public concern regarding security and stability across the Taiwan Strait," he said. "It makes the Chinese aware that things happening there wouldn't just be about the U.S., Taiwan and China."
Taiwan needs to prepare to defend itself, which is why it recently extended military service for young men from four months to a year, Lai said.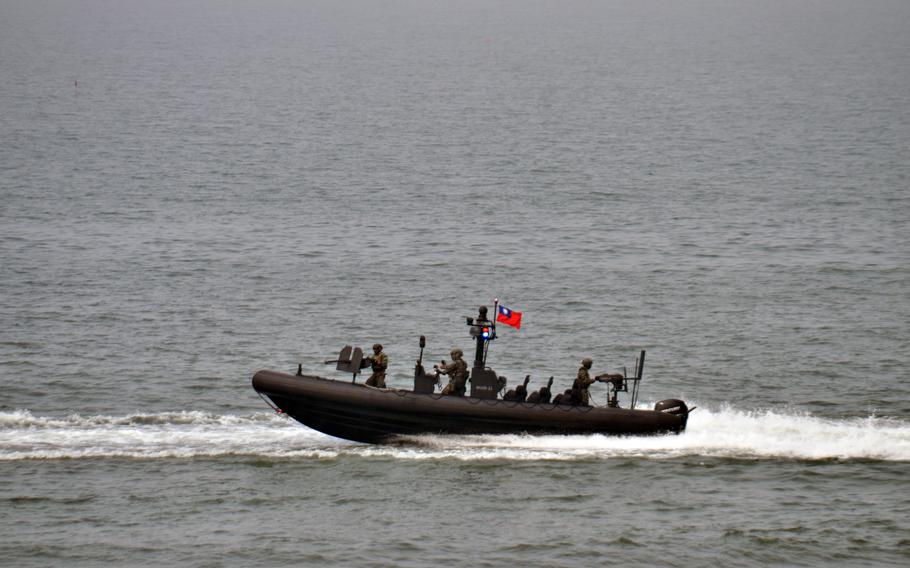 The Ukraine model, in which the U.S. and allies send arms and supplies to help defend the country after Russia invaded last year, does not apply to Taiwan, according to Ming-Shih Shen of Taipei's Institute for National Defense and Security Research.
Ukraine borders NATO member Poland, simplifying the movement of air and arms, the former Taiwanese infantryman said Jan. 10.
"Taiwan is an island," Shen said. "If China blockades Taiwan, how can the U.S. supply Taiwan?"
China is capable of effectively blockading Taiwan, Vice Adm. Karl Thomas, commander of the U.S. 7th Fleet, told the Wall Street Journal for a Sept. 20 article.
"They have a very large navy, and if they want to bully and put ships around Taiwan, they very much can do that," he said.
A blockade isn't an all-out lethal attack, Thomas said, and the international community could "work together on how we're going to solve that challenge."
It's possible the U.S. could resupply Taiwanese forces from Japan or the Philippines, Shen said.
However, Taiwan needs to prepare munitions and supplies on the island. It also needs energy stocks. Taiwan would run out of natural gas in eight days and oil in three months in the event of a blockade, he said.
"If we don't have power, many weapon systems can't operate," he said. "We are thinking about these problems and preparing."