By HENG WEILI in New York | China Daily Global | Updated: 2022-11-08 11:55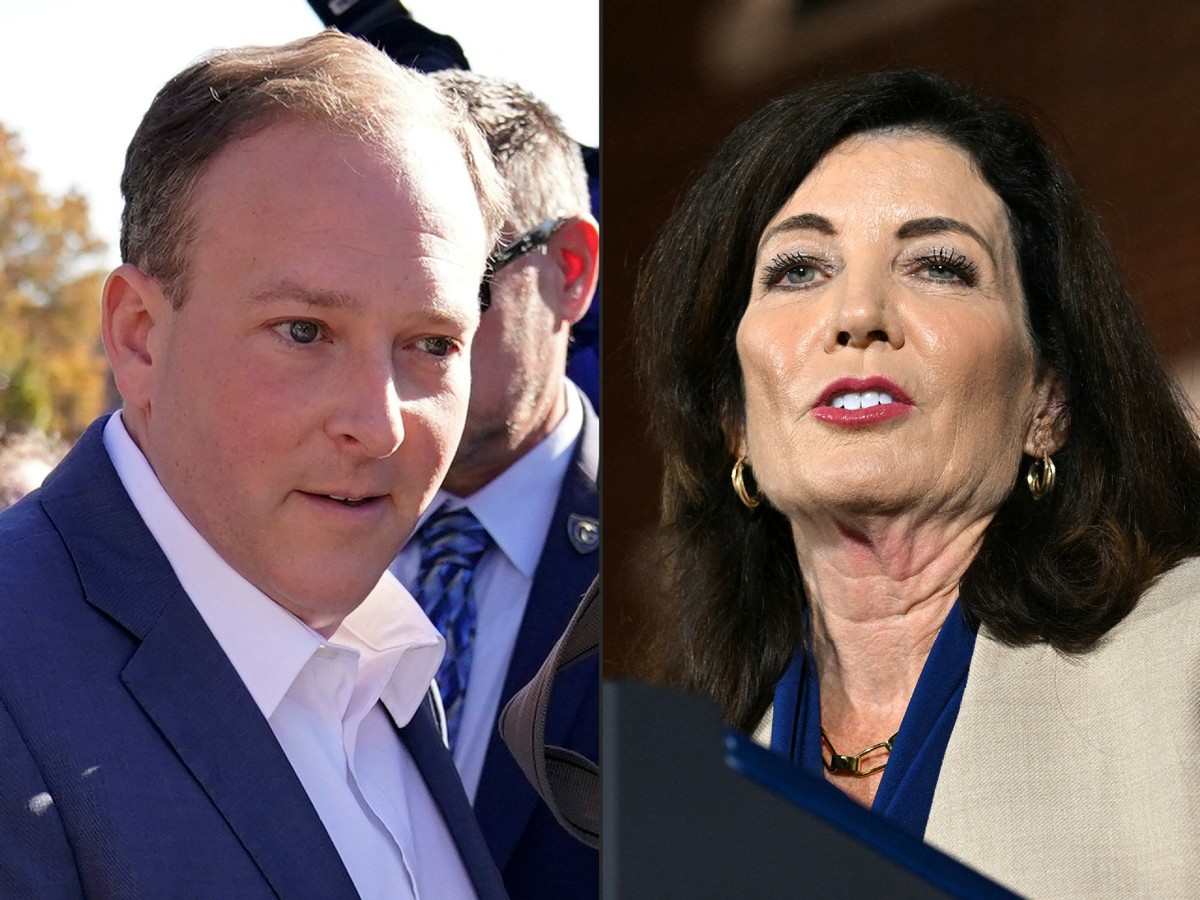 This combination of pictures created on Nov 7, 2022 shows Democrat Kathy Hochul, right, and Republican Lee Zeldin. [Photo/Agencies]
While the political makeup of the US House and Senate will be on the line Tuesday, the contest for governor of New York could provide a tell on the psyche of the American voter.
Incumbent Democrat Kathy Hochul is facing Republican Lee Zeldin, a US congressman from Long Island.
Hochul, 64, who became New York's first woman governor in August 2021 after Andrew Cuomo resigned amid allegations of sexual harassment, has made abortion rights the centerpiece of her campaign after Roe vs Wade was overturned by the US Supreme Court in June. She also has run campaign ads linking Zeldin to former president Donald Trump, who remains a controversial figure in "blue" New York.
Zeldin has focused on crime in the Empire State, particularly in New York City, which has had some high-profile crimes in the subway.
Hochul, who hails from Buffalo, has said that Zeldin has exaggerated the crime issue.
"He has been hyperventilating, trying to scare people for months, and New Yorkers are onto it," she said at a campaign stop in Manhattan on Monday. "All the legitimate media organizations have called him out for what he is doing, fearmongering."
Zeldin, 42, has railed against lenient bail laws passed by the state Legislature in Albany, blaming the measures for repeat offenders committing crimes, some of which have gotten widespread media coverage.
New York City Mayor Eric Adams, a Democrat, also has complained about the state's bail laws.
Zeldin has pledged to immediately fire Manhattan District Attorney Alvin Bragg, who was elected in 2021, if he wins election on Tuesday. Zeldin has accused Bragg of being lenient on prosecutions.
During a Bronx news conference on Monday, near where a man was stabbed on a subway platform a day prior, Zeldin said: "The issue that I hear about a lot from New Yorkers is that they care about wanting to be able to feel safer on the streets and on the subway. Kathy Hochul has made a strategic calculation; she wanted to just get people to look away, just stop focusing on this issue."
Heavily Democratic New York, where registered Democratic voters outnumber Republicans 2-1, has not elected a Republican as governor since George Pataki won three four-year terms, concluding in December 2006. Pataki was first elected in 1995 over incumbent Mario Cuomo, father of Andrew. Mario Cuomo also had served three terms.
Hochul has held a single-digit lead in most polls, but Zeldin has been gaining.
The election also has demonstrated the difference in outlook from the city's media. The New York Times has endorsed Hochul, while the New York Post favors Zeldin.
Elsewhere on Monday, President Joe Biden and his predecessor Trump held competing rallies in a homestretch effort to rally supporters.
Biden traveled to Maryland to support Democratic gubernatorial nominee Wes Moore, who is favored against Republican Dan Cox. The current governor, Republican Larry Hogan, is completing his second term, which is all state law allows.
Trump, meanwhile, was in Ohio to campaign alongside Republican US Senate nominee J.D. Vance, who is facing Democrat Tim Ryan, a long-serving US congressman.
Nonpartisan election forecasters predicted on Monday that Republicans are likely to pick up roughly 25 seats in the 435-seat House, more than enough to win a majority. All 435 House seats, 35 US Senate seats and 36 governorships are on the ballot Tuesday.
Persistently high inflation and concerns about crime have led many voters to sour on Biden's leadership, of which only 40 percent of Americans approve, according to a Reuters/Ipsos poll completed on Tuesday.
If the GOP takes the House, that could jeopardize Biden's legislative agenda — including Democratic priorities such as abortion rights, family leave and climate change — and open the door for two years of Republican-led investigations that could potentially damage the White House.
Billionaire Elon Musk, who recently took control of Twitter, tweeted Monday that "independent-minded voters" should vote for a Republican Congress "because shared power curbs the worst excesses of both parties".
Control of Capitol Hill would give Republicans the power to block aid to Ukraine in its military conflict with Russia, but they are more likely to slow or pare back the flow of weapons and economic assistance to Kyiv than stop it. Ukraine already has received tens of billions of dollars in aid from the US.
More than 42 million Americans have already cast their ballots, either in person or through the mail, according to the US Elections Project, which tracks early voting.
Because some states allow ballots to be mailed on Election Day, it might be days or weeks before the outcome of some close races is clear.
In Georgia, site of one of the nation's most closely contested Senate races — between incumbent Democrat Raphael Warnock and Republican Herschel Walker — election officials in Cobb County were working on an agreement to extend voting options for 1,036 people who had requested mail ballots but did not receive them.
County officials said about half of the voters either voted early or received a replacement ballot overnight and recommended that the rest vote in person.
Reuters contributed to this story.