A convoy of four ambulances carrying vital humanitarian and medical supplies bound for war-torn Ukraine set off on a 1200-mile mercy mission from a wintry Teddington yesterday morning (January 22).
The former NHS ambulances are about eight-years-old with up to 300,000 miles on the clocks. Their purchase has been funded by £55,000 raised locally through friends, family and contacts of local businessman, Simon Drake. 
The journey takes the convoy through the Eurotunnel to Calais, through France, Belgium, Netherlands, Germany and Poland where the vehicles will then be handed over close to the Ukraine border at Jaroslaw or Rzeszow.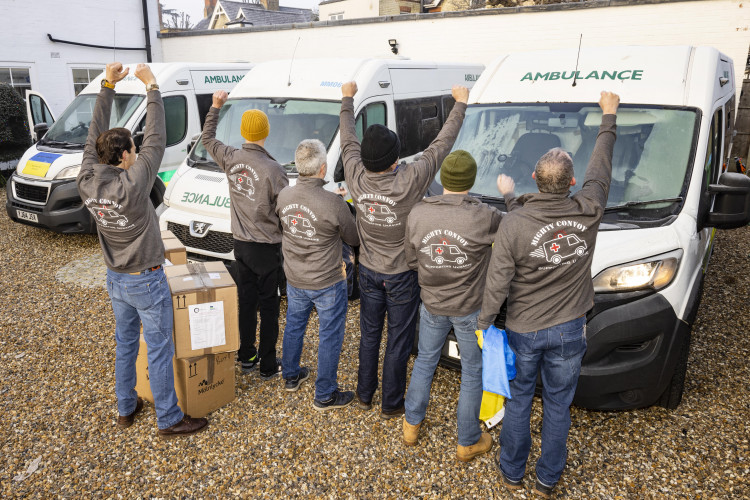 Members of the eight-man crew all set for their 1200-mile mission (Credit: Edward Hill)
Simon organised a previous mission last August when three ambulances were taken to Lviv. Mr Drake will be behind the wheel of one of the ambulances while seven other local friends from Teddington, Twickenham, Esher, East Molesey and Guildford. There are two drivers for each ambulance.
The eight man crew aboard the four ambulances are, Alex Greaves, Chris Jones, Will Harding, Kieran O'Flynn, Paul Borek, Chris Pattison, Sven Olsen and organiser Simon.
Driving through Sunday night, the team will arrive in Poland later this afternoon (January 23) and will stay in Krakow before flying back on Tuesday with Ryanair.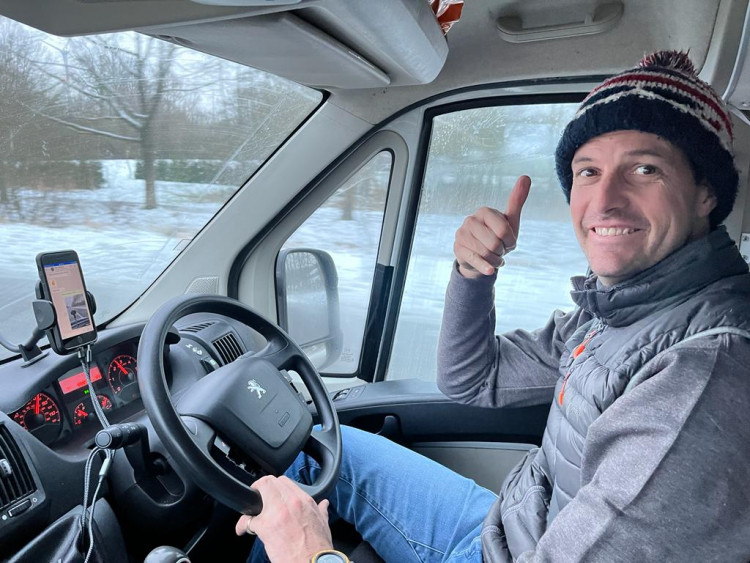 Alex Greaves behind the wheel of one of the four ambulances.
Simon told Nub News: "The four ambulances are full of medical equipment, medical aid such as procedure packs, mobile hospital beds, humanitarian aid, food, a generator, and clothing which were donated to Support Ukraine, London for us to transport for them, and to the International Medical and Dental Association (ICMDA) Ukraine Appeal https://icmda.net/ukraineappeal/.
"We also owe a special thanks to Ramsey Health Care for their donation of PPE."
Despite the logistical challenges facing the organisers, only documents conforming ownership for the ambulances and authorisation letters from the aid donors and insurance documents were required.
Simon, a father of two, added: "The vehicles and half of the contents will be donated to Christian Medical Association Ukraine (CMAU) and they link up with over 200 medical units in Ukraine, many near the war front itself, where these supplies are most needed."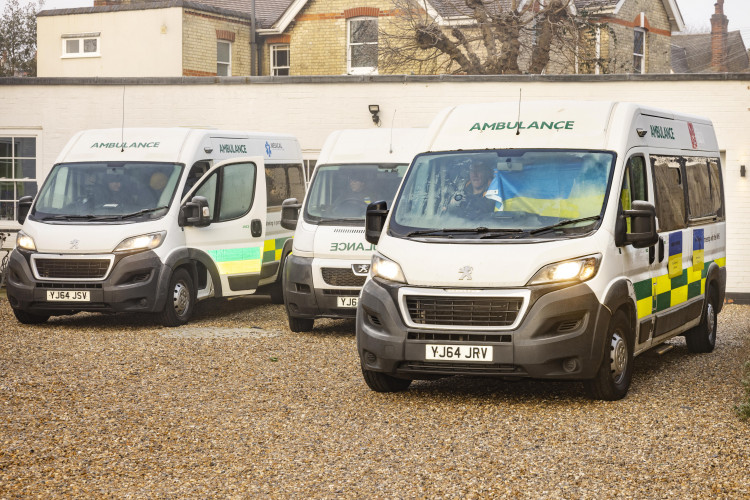 The ambulances set off on their 1200 mile-long journey to Ukraine from Teddington (Credit: Edward Hill).
The organisers plan to make similar future trips as long as funds can continue to bee raised. Simon, a director of a software business, who has lived in Teddington for 15 years has no strong link with Ukraine apart from attending the Euros 2012, but added: "I just felt the need to help." 
He has made important and useful connections to Ukrainian people living local as well as charity organisations set up to support them. In May last year he launched a not for profit company called Mighty Convoy Limited specifically to raise money for vehicles to be sent to Ukraine.
You can get involves and learn about the effort here: https://www.mightyconvoy.org/  and see how the money is being used to fund life-saving projects here https://youtu.be/wFV0n1yCV9s