ABC photographer wins Walkley Press Photographer of the Year
23 November 2022
The winners of the 67th Walkley Awards for Excellence in Journalism have been announced, with ABC photographer Brendan Esposito named Nikon-Walkley Press Photographer of the Year for 2022.
Esposito's entry spanned the civilian impact of war in Ukraine, social issues closer to home including opioids, incarceration, DIY erotica, and life after a double mastectomy.
The Walkley Awards for Excellence in Journalism are the highest honours in Australian journalism, celebrating excellence across all media.
The annual awards were presented in 30 categories covering print, radio, and television. 
© Brendan Esposito. Winner, Nikon-Walkley Press Photographer of the Year. Ukraine Mona Lisa. A refugee looks through a train window, her vacant stare echoing the despair of hundreds of thousands of refugees arriving at Lviv train station in the early hours of a winter morning. They travelled overnight in complete darkness on so-called "ghost trains" from ravaged villages, towns and cities during the Russian invasion of Ukraine.
© Brendan Esposito. Winner, Nikon-Walkley Press Photographer of the Year. Methadone and the long road home. Leah McLeod was working four jobs, three months behind in rent, and pregnant. She was also addicted to heroin. Then her doctor said: "If you don't go on methadone today, the chances of you leaving the hospital with your baby is slim." She has now been taking the prescription medication for 20 years. "Sometimes I say it was my child that saved my life. But maybe it was methadone. That first morning that you wake up and you're not sick is magic."
"Brendan Esposito shows a high standard of professionalism, earning the trust of vulnerable people and getting into their inner circle to convey a sense of intimacy. Each portrait is tailored to its subject and gives us a different feeling. Ukraine Mona Lisa, shot through the condensation on the glass, looks like a classical painting," said the judges. 
© Brendan Esposito. Winner, Nikon-Walkley Press Photographer of the Year. When the war came home. Hundreds of people turned up to show their respects alongside family members at the funeral for family man Borden Lazar in the Ukraine village of Verhnya Bilka. Lazar was killed during an attack on a military base in Yavoriv.
In other categories, photographer for The Sydney Morning Herald and The Age, Kate Geraghty, took out the Feature/Photographic Essay category with her series Invasion of Ukraine – Civilian Impact.
Geraghty described photographing the series as an opportunity to show the emotions of victims of the war in Ukraine.
"I photographed breaking news such as a woman being rescued after a missile strike, but the main focus was to show the emotions behind the impact on civilians," she said.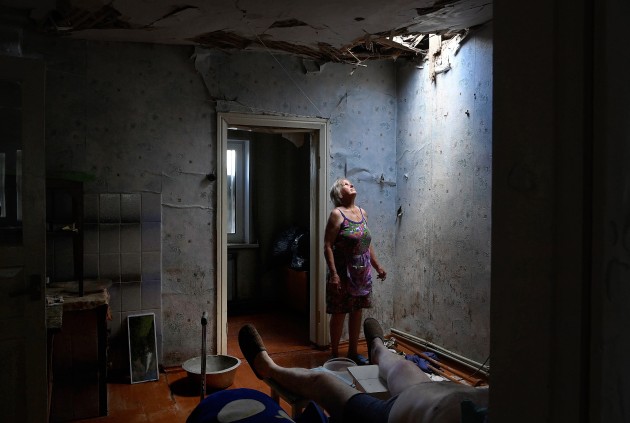 © Kate Geraghty. Winner, Feature/Photographic Essay. Invasion of Ukraine - Civilian Impact. Living on the frontline. Zoya Shaposhnik, 67, looks up at the hole in her ceiling from a missile strike. Her disabled husband narrowly escaped injury or death in their home in Krasnohorivka. Zoya Shaposhnik did not evacuate as many others have in the town, instead staying to care for her husband. Their roof and other parts of their home have been destroyed. Krasnohorivka, Donetsk Oblast, Ukraine. June 16, 2022.
"Previous experience of covering the Donbas war, and months of planning last year to return to Ukraine, meant that when Russia invaded, I was already accredited, allowing visits to Ukrainian forces on frontlines. On one of the five embeds I documented the bodies of Russian soldiers being recovered from a battle to be used in a prisoner exchange.
I had to photograph quickly as Russian missiles had been fired towards our location and would kill three Ukrainian soldiers soon after we evacuated."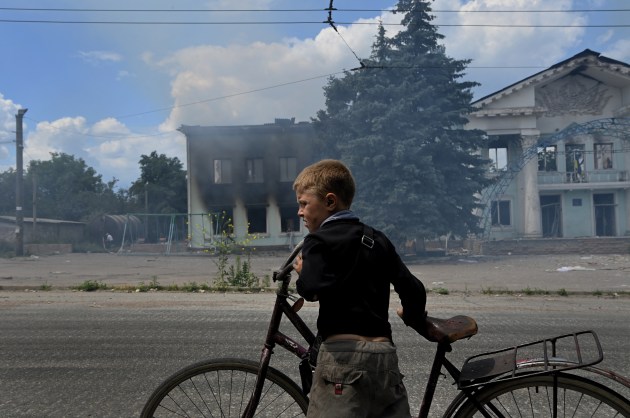 © Kate Geraghty. Winner, Feature/Photographic Essay. Invasion of Ukraine - Civilian Impact. Lysychansk. As the sound of one of four incoming missiles whistles ahead, eight-year-old Timosha stands with his bicycle in front of the still burning Palace of Culture in Lysychansk. The previous day, an air-strike hit the Palace, killing four people. At the time this photo was taken Lysychansk was the last Ukrainian-held city in the Luhansk Region; a week later the city and its remaining residents were under Russian occupation. Lysychansk, Ukraine. June 17, 2022.
An image by Natalie Grono (The Saturday Paper and Surfing World Magazine), Peter takes a moment, won the News Photography category following its win as the 2022 Nikon Walkley Photo of the Year Prize in October.
The image depicts a 'quintessential' Australian impacted by the devastating floods that floodwaters inundated the Northern Rivers of NSW in February and March 2022.

Grono was first assigned to photograph Ballina and surrounding communities as they prepared for the waters to move down from Lismore. With roads, power and communications cut off, Grono waded into flooded streets, speaking with residents and making their portraits.
© Natalie Grono. Winner, News Photography and Nikon Prize for Photo of the Year. Peter takes a moment. Peter takes a moment's rest from moving his ruined belongings outside his flooded Wardell home.
Finally, Getty Images Cameron Spencer was named winner of the Sport Photography category with his body of work, Sport is Back!
His images captured fleeting moments from tennis and ironman, to ski-jumping and AFL.
Of the work, the judges said: "This well curated series demonstrates Cameron Spencer's impressive range. His strong use of natural light, shadows and silhouettes shows his great technical skills. His ability to see something different, and to find interesting, unusual viewpoints on a variety of sports, is a testament to his creative eye."
© Cameron Spencer. Winner, Sport Photography. Sport is Back! Midfield Traffic. Tom Papley of the Swans kicks during the round 20 AFL match between the Sydney Swans and the Greater Western Sydney Giants at Sydney Cricket Ground. July 30, 2022
You can see more work by the finalists at the Walkley Awards website.