Russia-Ukraine War Day 10 Live Updates: Russia declares ceasefire from 10 am
Russia-Ukraine War Day 10 Live Updates: The war between Russia and Ukraine is getting intense with the number of casualties rising day by day. Ukrainian President Volodymyr Zelenskyy will talk to the US Senators on Saturday on a video conference call, according to a person familiar with the invitation from the Ukrainian embassy. 12:40pm| Russia declares ceasefire in Ukraine, opens humanitarian corridors for civilians to leave. 12:09 pm| At Uttarakhand Sadan in Delhi, CM Pushkar Singh Dhami met students of the state who returned from Ukraine recently. 12:08 pm| Birthday of an Indian student, Kartik was celebrated at a camp on Romanian border yesterday.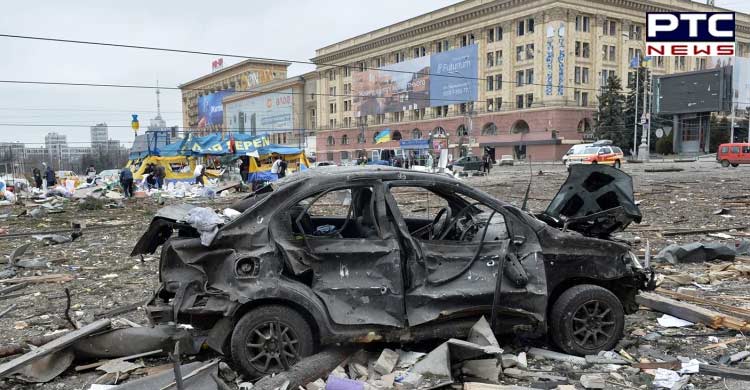 Russia-Ukraine War Day 10 Live Updates: Russia declares ceasefire from 10 am
11:05 am| Efforts to bring back Naveen Shekharappa's (an MBBS student who died in shelling in Ukraine) body is in progress. 10:44 am| BJD MP from Odisha, Prasanna Acharya writes to Union Health Minister Mansukh Mandaviya; requests him to "seriously ponder for an immediate alternative arrangement for students who were forced to abandon their studies half-way in view of the situation. 10:00 am| Amid the ongoing evacuation of Indian medical students from #Ukraine, National Medical Commission (NMC) allows Foreign Medical Graduates with incomplete internships due to compelling situations like the Covid19 & war. 9:56 am| Fighting underway in Ukraine's Sumy, civilians asked to seek shelter. 9:04 am| Russia has fired more than 500 missiles in the week since its full-scale invasion of Ukraine began.
8:16 am| Samsung Electronics said that shipments to Russia have been suspended "due to current geopolitical developments. "We continue to actively monitor this complex situation to determine our next steps," the company said in a statement. 8:00 am| Ukrainian port city Mariupol 'blockaded' by Russian forces, says mayor.
Read full article at PTC News
Related News
Related FAQs